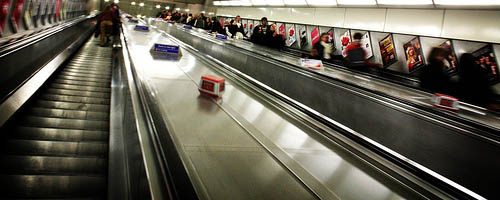 Picture by Fabio Venni of the escalators at Angel
The longest escalator in Western Europe isn't as long as Nelly had expected.
"No?" Sam says, stovepipe hat askew, fingers tapping on posters as the steps carry him down. "I concede that it isn't to everyone's taste." He taps the last poster twice, harder, and the floor opens beneath them, revealing the other three quarters of the escalator.
"It still isn't that long," Nelly says as the floor becomes ceiling and closes behind her. There are posters down here as well, but they're older: an album from 1996, a TV show from before she was born. By the time they get off they're passing tattered remains of pre-rationing EAT LESS BREAD.
"Hard though it may be for you to believe it, Helen, maximum escalator length is not the sole determinant of the value of a public transport system. The London Underground's escalators may be diminutive; its schedules may be charmingly erratic. But these are trifles, because although the Underground is many things," and he slaps his hand against the tiles on the wall, "it is, above all else, a compelling metaphor for time travel."
Nelly's 14, and not easily convinced. "Why?"
"Tush. You're perfectly capable of working it out for yourself." He leads her along an empty passage and down a staircase, backward against "WAY OUT" arrows.
The tiles are worn, down here. "There's… a lot of different lines, like timelines?"
Sam tilts his head in acknowledgement, and carries the motion through to duck under a low doorway without dislodging his hat. "That's quite good."
Nelly doesn't have to duck. "And if you make a little mistake near the beginning, you can end up somewhere completely different."
"And that's rather better." They stop at a wooden door. A long column of warning signs runs down its centre: low ceiling, sudden drop, high voltage, mind the step, these doors are alarmed, hard hat must be worn, fire door keep closed.
It drags a curve through thick dirt on the floor as it opens. Behind it they walk into a corridor with a row of levers that stretches out in all the colours of the tubelines. Nelly notices another at the far end, grimier than the rest, but Sam pulls at the yellow; it screeches, then flips down. He follows it with green, and then brown. "But I was thinking more specifically," he says, working his way further from the door, "of the way it allows you to travel in time."
Grey, orange, Victoria blue.
"And the way," he adds, "it confuses people an awful lot if you stop it running."
Clunk. White.