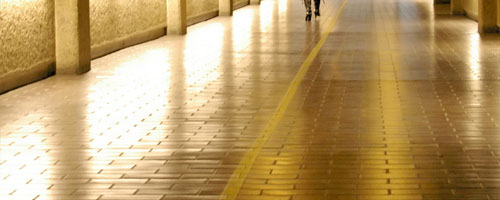 Picture by Daveybot: Barbican Walkway
There was woodland here once, a long time ago. Sunny paths led inward, autumn leaves crunched beneath our medieval feet, frost turned the branches silver and snow turned them white and spring turned them grey and green and gold again, over and over. Sometimes there were bluebells. Sometimes there were wolves.
There were no warning signs, or spiked fences. If you lived nearby you knew to stay away, and if you were just passing through then the woodland would let you go — usually, eventually — after a few wrong turns and a little scare or two.
Later, the woodland was cut down and there were houses and offices and shops. People walked through and got a little lost, and then found their way out; or they got a job for a year (studying at night, waiting for their young man to propose, deciding what to do next) and never left again.
Later still it was dark, darker than anything we'd seen since the woodland fell and the first buildings came in its place: windows covered, streetlamps doused, cigarettes stamped out. Sometimes there were air-raid sirens; sometimes the bombs hit, and the houses and offices and shops all fell apart.
And now the war's long ended and the lights are on again, and new buildings have sprung from the old. There are fountains; there's a warm glass conservatory with pink flowers and a long spiral staircase. There's an orchestra and a theatre and tall housing blocks and a Waitrose, and a wide plaza like a satellite dish, and bricks, and trees, and bricks, and maps and yellow lines and bricks.
The raised pathways cross at ninety degrees, above and below each other, and you can see from one to another. Sometimes they lead outward and away. Sometimes they lead downward further and further, but there's always bright air and clouds when you look over the side.
You're lost, of course. Everyone here is lost. Pretend you think it's funny, for ten minutes or so: you can't find the exit, it must be around here somewhere! It's like a maze! Look, it's that corner again, or is it a different one? You'll pass the Pizza Express from a dozen different angles; you might as well stop and eat something while you can, it's the last garlic bread for a long long time.
Further up (or further down; the ziggurat structure makes it hard to tell sometimes), you'll get a view across the whole Barbican, fog-bound at the edges, the city invisible beyond its amorphous edges. The corridors here will cross at stranger angles, and some of them will slope up and then down, gently, like rolling hills.
We'll find you pretty quickly. New faces are easy to recognise around here. When we ask who you are, what you were doing, you should probably tell us you're a lighting technician: nobody will know enough to prove you a liar.
Never admit that you were just walking through, just looking around. We've been here longer than you, and we've heard that passers-by sometimes make it out even after weeks, years. It's a long time we've spent down here, longer for some of us than others; and if we're hungry enough for escape then we'll eat you, the closest thing we've got.