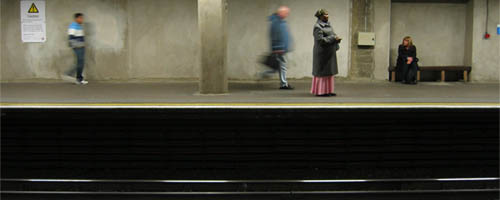 Picture by enlatado.net: Aldgate East
Two million people crowd the stations to watch the very last train pull away on its very last journey. Bands play, hawkers sell glowstick halos in all the colours of the tube map; the electricity is switched off for the last time, and a parade marches down the centre of the line.
After families and photographers have gone home, the teenagers descend with the sun: onto the track, into stations, shouting out until their voices are just overlapping echoes. They wear torches on headbands, and when they kiss on empty platforms the light bounces from advertising screens too old to salvage. They scrawl graffiti across them, and across the walls and fences and each other's backs, and they laugh.
They've always tagged next to railways, and they don't remember why. The lines are dead, the trains are gone, the transport police are patrolling the hoverway, and for a few weeks euphoria carries them through; but the danger was always part of the drive. There's no audience now either, except the homeless and the urbex crawlers. Millions of commuters are safe above their heads, carried along by whirring silver tubes, windows giving on sunlight and advercloud. Something's missing.
Cassidy's the first to figure it out. It takes her a week, walking the lines with the others, wondering what's gone wrong. Once she's decided what to do, though, she doesn't hesitate: she starts where the last train finished, phone held high, a stack of three amplifying speakers clamped to the front. Streaming clanks and whistles peal out, a cacophony of sounds from the tube's last hundred years, randomly recombined: mind the gap, the last train has left, the gasp of doors as they open, the beep as they close, the burr of a thousand rushing footsteps. In front of her the others scatter, clambering over fences and hurtling out of the way while she runs as fast as she can, straight down the line and toward the city centre.