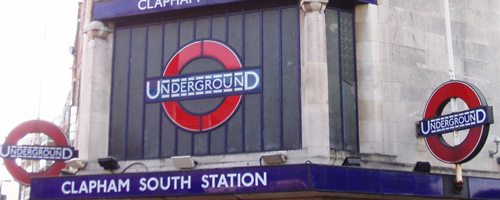 Picture by Ewan M: Clapham South station
Function follows form. Put up a house with three bedrooms, and a medium-sized family will move in; put up a stage, and you'll summon a theatre troupe. Buildings determine their own purpose, dictating their content with the shape of their windows and the colour of their facades.
In one universe, just a sidestep from our own, Clapham South Underground Station is therefore an old cinema: the sort of place that closed down during the 60s, shed its paint with picturesque care, and welcomed surreptitious visits from photographers and teenagers for twenty years. Eventually it underwent regeneration, and since then it's housed a rotating selection of dress salons, jewellery shops, delicatessens, hairdressers, and, for three months in early 2006, a cupcake bar.
In another universe, a step in the opposite direction, it's the Ministry of some Positive Abstract Noun or other, the sort of thing that shorthands EVIL OPPRESSION: the Ministry of Love, the Ministry of Hope, the Ministry of Valour, the Ministry of Diligence. In its tunnels and tiny rooms, civil servants write policy documents about action management mechanisms, then mass-email informative pdfs about keeping your inbox empty.
Another step, and it's the headquarters of the United Kingdom Objectivist Society, with REASON inscribed above the door in majestic capitals. Evangelists hand out free copies of Atlas Shrugged to faintly irritated passers-by. Study groups underground agree, over cake, that altruism is bad. Several of the men are named Leo.
It can all get a bit confusing, especially for Andie, who isn't a great navigator at the best of times. Her technique relies on landmarks and a vague sense of familiarity, which works increasingly poorly with each new universe she travels through. Still, she's sitting on the bench when Kurt arrives, against all expectations.
"I brought popcorn," she says, unzipping her backpack surreptitiously and pointing. "I hope you didn't buy any already? Sorry, I should have phoned ahead to say."
"No," he says. "I didn't."
She squeezes the backpack between them on the bench, and looks out at the station in front of them. "The Northern Line was the only thing showing," she says. "No idea what it's about, I'm pretty sure I've never even heard of it."
"Are you joking?" Kurt asks.
"It's okay so far. I think that girl there," and she points at a woman who's reading a thick book and leaning against the wall, "is the main character, she's been pacing around a bit and looking tormented. Not many explosions or jokes," she adds, "but 3D tech's got a hell of a lot better since Spy Kids: Game Over."
"This isn't a cinema," Kurt says.
"I think the guy with the camera's the baddie."
"This isn't," Kurt repeats, "a cinema. This is both the wrong decade and the wrong universe for a cinema."
Andie frowns. "Oh," she says.
"Yes," Kurt says. "Oh."
"You mean this is…?"
Kurt sighs. "That's right."
Andie launches herself from the bench, and tackles the reading woman to the ground, wrenching the book from her hand and throwing it across the platform. "Noooooo!" she yells. "Unrestricted markets don't promote general prosperity, they act against it! The dictum that nobody should initiate force is itself unenforceable without a reliable system of government! History demonstrates that legislation against the right to discriminate is necessary in order to reduce inequality and inequity! Dagny Taggart is a stupid name!"
Kurt sighs, stands, and collects the book from where it lies, splayed open on the platform. It seems to be an inoffensive Arthurian fantasy. "That's also," he calls out, "not the universe we're in."
"John Galt is a fictional character whose imaginary experiences prove nothing about the real world!" Andie is yelling.
"Andie!" Kurt repeats. "Wrong universe! Again!"
Andie has paused for breath, and hears him this time. "Oh," she says, and frowns. She gets up. The woman on the platform looks at her from the ground, astonished. "Sorry," Andie adds.
"I thought the trains would be a giveaway," Kurt says as he hands the book back and helps the woman to her feet.
"I thought they were, like, an allegorical representation of the motor of the world? I'm really sorry!" she adds to the woman. For a moment she tries to think of something else to say, but a couple of station employees in brightly-coloured safety vests are running along the platform towards her; so she mouths another apology, grabs hold of Kurt, and slips into the next universe across. In this one, the Clapham South building is an abandoned military outpost on the edge of a cliff, overlooking a lifeless sea. Which, as it's quite sunny, makes for a better day out anyway.