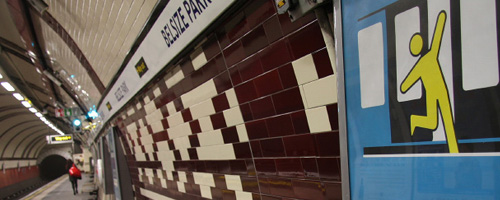 Picture by axelrd: Belsize Park
Lara sorts out a broadband connection for her father, claiming she wants to send him pictures of Jess; secretly she hopes he might finally give up hangliding if he has something else to do with his afternoons.
It works, a little. He starts by joining every gardening forum he can find, trying to figure out how to grow an outdoor pitcher plant in Sussex (he settles for a Venus Flytrap in the end). Later, he graduates to ordering out-of-print spy fiction off AbeBooks and writing cross Have Your Say letters under a variety of pseudonyms. A month after that, he finds YouTube.
"Many people have skiied down the escalators of the London Underground…" he says on his next weekend visit.
They're waiting for a southbound train in Belsize Park, after two hours spent chasing Jess over Hampsted Heath. Lara would very much like a cup of tea. "One person," she says. "Not many. One. And he was arrested." She's not sure about that last bit, but then, she spent half her childhood convinced that she'd go bald if she didn't stop chewing on her hair. Benevolent lies are in her blood.
"…but nobody has ever waterskiied through the tunnels themselves."
"There are a lot of really good reasons for that," Lara says. "And just one of them is the fact that tube tunnels don't have water in them."
Alan frowns. "That's true," he says. The gardening forums will know about hoses, though.
"What worries me," Lara says, pulling Jessmyn away from the yellow line, "is that Jess is twenty-five percent your genes."
Alan scrunches his nose at his granddaughter, and she giggles. "What worries me," he says, "is the third rail. I suppose the water's going to be electrified."
"I don't know," Lara says, "why don't put a couple of sharks in and see how they do? If they live you'll know it's safe, and you can just ski-jump over them to add excitement," but Alan never watched much TV and he hasn't read that bit of the internet yet, so it sounds like a pretty good idea to him.