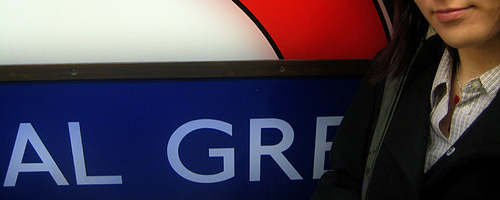 Picture by Slushpup of Bethnal Green station
The shop sells extortionate rainbows: swathes of pure colour at sixty pounds apiece, or a knock-down £400 for a full spectrum of seven.
Cam and Eliza don't have four hundred pounds. And Eliza doesn't have, or so it seems to Cam, a conscience.
"Don't be such a worrywart," Eliza says, running the back of one hand along undulating indigo. "It's fine. You're allowed to steal silk."
"I'm pretty sure that's not technically the case," Cam says.
"Well, maybe not technically," Eliza says. "Technically it's against the law to eat a mince pie on Christmas Day."
"You know that's not true, right? Remember that big conversation we had about ain't-the-world-zany newspaper articles? There's also no real formula for the perfect hemline."
"Technically you aren't allowed to drive without a seat-belt on," Eliza continues, unperturbed.
"I don't drive without a seat-belt on. I don't drive at all."
"Technically," Eliza says, "you aren't allowed to illegally download Battlestar Galactica."
Cam remains silent.
"Silk is like bittorrent," Eliza says, triumphant. "Everyone does it, nobody really cares. Massive history of theft, right? Silkworms smuggled out of China in hollow-tipped walking-sticks, industrial spies stealing newly-designed looms. Rival manufacturers sneaking into each other's factories to get a glance at the hot new fabric patterns. At the start of the nineteenth century there were twenty thousand weavers around here, and what do you need that many weavers for unless your silk keeps getting stolen?"
Cam is trying to refold the scarves and doesn't respond, but Eliza just picks them up and shakes them loose again, red, orange, yellow. "Silk theft is the cultural heritage of Bethnal Green," she says. "This is why we had to come during the week, if you go into a silk shop on a weekend you can't move for all the shoplifters."
Cam gives up on the folding and looks around the shop. It doesn't appear to be bustling with thieves at the moment. There's the woman at the counter, and a man examining stacked cushions in one corner; and there's her, and Eliza, who is speaking really quite loudly now.
"It's intrinsic to human nature," Eliza says. "Make something gorgeous and expensive that you can fold down into a tiny little ball, and of course everyone's going to steal it. Magicians pulling silk handkerchiefs out of their sleeves, yeah? And then pushing them into an egg till they disappear? That's a metaphor."
"Okay, fine," Cam says, "whatever you say, everyone does it, I don't want to have this argument. But you know what else I don't want to do? Steal scarves for you."
Eliza folds her arms. "Spoilsport," she says, pouting slightly.
"You look ridiculous," Cam says. "You look like an alpaca."
Eliza pulls her bottom lip in and bats her eyelashes.
"You still look like an alpaca."
"Oh, come on," Eliza says, wriggling petulantly and pulling Cam around to face her. "They're so bright. They feel so smooth." Her voice changes, a different tone of half-whisper: "And if we had seven scarves, I could try out the dance of the seven veils…"
Cam pulls her arms free and turns around, leaves the shop. The woman at the counter seems to glare suspiciously as she walks out.
She's halfway down the street when Eliza catches up. "No need to get in a huff," Eliza says. "It was just an idea."
Back inside the shop, the bearded man looks quickly behind him, then takes four cushions and pushes them down his trousers. He thinks he might have overdone it, waddling past the woman at the counter, but she's busy swallowing her seventh silk tie of the day and she doesn't notice anything odd.
"We can probably just use teatowels from the pound shop, anyway," Eliza says, as three black-clad figures vault over her head and roll to their feet on the roof opposite.