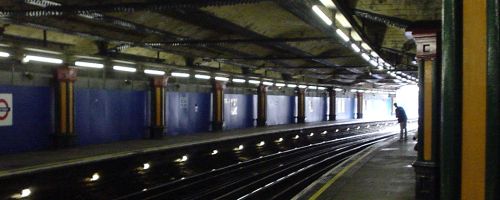 Picture by diamond geezer: Bow Road Station - April 2004
London is not a principled city. It doesn't have straight-angled streets that bend to no master, it doesn't have hills that none will level, it has no marshes on which none shall build, no uncrossable rivers, no unblockable horizons. London bows to any strong will, complies with any architectural fad, yields its soft earth constantly to the bore of new tunnels. It does as it's told; and if this means that it's capricious on occasion, that it layers new plans upon the old, that a thousand contradictory revolutions accrete and the city carries on regardless, undisturbed — well, that's hardly London's fault. It was only trying to please.
When the powerful stumble, London judders under the impact and puts forth new walls, softer grass, smooth paths. In 1110, Queen Matilda tried to cross the River Lee at a ford, and she tripped; and soon after, there was a bridge at Bow.
Others had tripped and crawled from the river, sodden and coughing, so many times before, but when it happened to Matilda, there was a bridge. The people of Bow learnt from this; and hundreds of years later, when their underground station started to crumble, they remembered. Old paint revealed the older paint beneath, pigeons descended to land on beams whose warding spikes had long since been blunted. The tubelines changed but the signs didn't follow, crying METROPOLITAN where no Metropolitan had run for years. So in Bow they started to make important friends, and they invited their new friends round for dinner and served them salt and fat and other good things: brightly-coloured chestnut soup; asparagus and mozzarella wrapped in parma ham, crisp and melting and crisp again; whole rice-stuffed quails peeking from inside sweet peppers; tiny almond puddings that tasted of lilac and hyacinth and lavender, three to a plate.
Most particularly, they served quite a lot of wine.
Sooner or later, they knew, somebody important would trip down the stairs, a startled pigeon would flap into an important face and send important legs staggering backwards, important hours would be spent waiting for a Metropolitan train which never came.
It took a while, but eventually it worked. Someone tripped, London shivered, the station disappeared behind blue walls, and when it reappeared it was transformed.
Nowadays the people of Bow have let their important friends fall by the wayside, their purpose served. The paint at the station is still bright. It won't last for ever, of course—London isn't that sort of city—but it'll do for now.