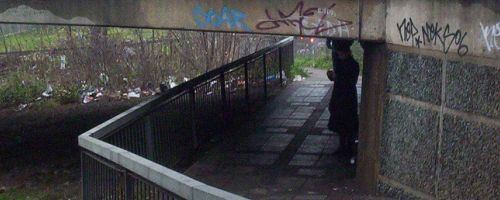 Picture by Kevan: Under a Flyover
They start outside, leaning against their separate walls—waiting for Amos, as usual. It's cold, and Charlotte's fingers are red round the knuckles as she watches her screen; waits; reloads; reloads again.
This time it works. "Welcome to the game," the page tells her. "Rendezvous for instructions in Burger King. Play will begin in six minutes."
She puts the phone away and hesitates for a moment, choosing a direction, going over maps and landmarks in her head. Six minutes. And Burger King is on the far side. She'll make it, but it's going to be close, and if the pedestrian lights are against her she's bound to be the last. Maybe she should take it slow and save her energy: but she pushes off from the wall and runs left.
Across the road (the lights are with her), along another underpass; up a series of gentle slopes made for supermarket trolleys, grabbing hold of the hand rail to swing around 180-degree turns. The curve of a bridge. She slows as she crests the peak, and then speeds up on the downward slope, a clear run ahead of her toward the white square of the shopping centre. Burger King. Four minutes left.
The walls of Brent Cross get grubbier as she gets closer, and the automatic doors are slow. She turns sideways to make it through before they've finished opening, then decelerates on the tiles inside: it's crowded, and you can't run here, not so fast anyway. Shopping bags and toddlers jut out onto the left-hand side of the escalators. But it's going okay.
Two minutes fifteen seconds.
She arrives with forty-five seconds to spare, taps the screen to declare arrival, takes a quick picture for verification later. Plenty of time to receive her instructions and get out, as long as she wasn't last. Not it, she says in her head, dibs not it, while she waits for the page to load:
Charley Cartwright is no good,
Chop her up for firewood.
When she's dead, stamp on her head,
Then we'll have some currant bread.
Charley Cartwright lick and spit,
Turn around and you're not it.
Not it. But she's only got twenty-five seconds before the game begins, so she pivots and heads out, not sure exactly where to go but it needs to be quick. The Body Shop, maybe, to pick up a one-off lookahead bonus.
Rain thuds against the glass roof of the shopping centre. It's speeding up, and she feels her heart as it does the same, even now, even after ten years.
(Spring, 1999, after school on a Tuesday afternoon: they wait too long for perpetually-late Amos, and miss a bus. Still, it's a nice day, and the park's only a couple of minutes walk away, so they head over to kill half an hour while they wait. Bags in a pile. Coats off. They run around. Paul sits down again after a few minutes and declares himself the winner; ten minutes later, they've got a ruleset.
It's not a very good ruleset, at first, predicated as it is on the need to leave one player with the bags at all times; but they tweak things, and add some new win conditions, and play again and again, and by the end of summer they have a game. Charlotte also has her second, fourth, ninth, seventeenth and twenty-third through fifty-fifth kisses, and several unremovable grass stains, but that, she's pretty sure, is beside the point.
They suspend the game halfway through autumn; there's a variant they can play on the top floor of the bus, but it gets them kicked off three times in a week and they decide to give it a miss. Winter happens, cold and long. Tobin almost, but doesn't quite, leave the school. Hannah and Theodore almost, but don't quite, break up. Eventually the sun comes back.
They play through the next summer, and the next, but then there are jobs and universities and it all gets harder. For a while, they manage a few games a year, but before long Tobin's in Leeds, Amos is south London, Charlotte is north, Hannah and Theodore are over near Bristol and Paul is overstaying his visas in an increasingly unlikely series of small and politically powerless nations. Which is okay, and it's not like they don't all have other friends—except it's not really okay, because summer isn't fun if you aren't running around, and running isn't fun if you aren't being chased.
Which is where the death of independent shops on the British high street and the increasing homogenisation of world culture start to come in handy, of course, along with Amos's stumblingly-acquired computer science degree. If all shopping centres and high streets are the same, then what's to stop half a dozen superficially distinct locations from providing a distributed home for a single game?)
Forty-seven minutes in, and she's picked up five of the landmarks. If she can survive to the sixty minute mark, that's it, she wins; but it's been a long time since she saw a friendly face. She sits on a bench, leaning forward to catch her breath.
The phone rings.
Theodore. Forty-eight minutes—chances are he's been converted, and even if he hasn't there's no safety in numbers any more. She should let it ring. "Yeah?" she says, answering, standing up and starting to walk.
"You're the only one left," he says.
She swerves out of the path of the shoppers, towards the wall, and slows down. She can see herself reflected in the window, messily, her face mixed with blocks of colour from the display behind. "And you're telling me? That's bad tactics, Theo, so you know what? I think you're lying."
"And I think you," he says, "are hiding somewhere and waiting for the clock to run out. I'm guessing Borders again, but we'll find out for sure pretty soon."
The only way he can call her is if he's standing in one of the phone shops. Trying to keep her busy, she supposes, while the others sweep through and flush her out. If he's telling the truth, and they're all after her, this is going to be tricky.
"So were you the first chaser," she asks, stepping onto an escalator, "or were you just really bad at running away?" She hasn't updated her position since she was in the lift five minutes ago, which is dangerous, but if they're checking each floor properly she should have a few minutes spare. It'll be Phones4U or the Carphone Warehouse, she thinks, and she doesn't have time to check both.
"I was the chaser," he says. "I saw you leaving Burger King, but I thought it'd be more of a challenge to keep you to the end."
She can't tell whether it's meant to be a threat that sounds like a compliment, or a compliment that sounds like a threat; either way, it's probably a lie. "This yearning of yours for challenge," she says, "never ends well," and she hangs up as she passes Monsoon. In the door, and she updates her position to collect the powerup, with no idea how much time she has before someone finds her: it could be anything from ten seconds to ten minutes.
She starts running again, dodging oncoming pedestrians, down the long corridor towards victory or oblivion. The game's been running for fifty-one minutes as she steps into Carphone Warehouse and calls down a storm.