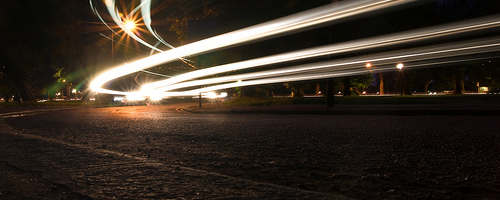 Picture by Jason Tabarias: Bend
Carey looks down four hundred feet and snaps her fingers, catching a large slow bee in mid-air. Its stripes are glossy and pale orange, which is new. Greens make you dozy, reds make you happy, blues make everything really interesting (and are really hard to catch), but orange: well, who knows? If she squeezes, the bee will die, and a drop of nectar will swell at the tip of its genetically-engineered extrusion gland.
She sucks the nectar and drops the empty on the ground. As drug delivery mechanisms go, you'd struggle to come up with anything less efficient; but on the other hand, swarms of multicoloured bees sure are pretty.
Prettiness is important, here. She's standing at the edge of a wide wicker basket, shifting her feet occasionally as it bobs in the air. Above, the huge wings of a Beppelin slowly beat. Underneath, on the distant ground, the crowd is shifting, moving a little faster, lit by the thick wax candles that stud the ground like tree-trunks. They're bright but spectrally limited, and the dark world glows gold and silver and white and grey.
Carey yawns, languid. This is Southtown, and you go to Southtown to impress, not to be impressed. You go because you're a rich young daredevil from north of the river, and you like the thrill. You go because you want to prove they'll let you in. You go because it's an autonomous ethical region, which is to say: what happens in Southtown stays in Southtown.
Or, in Carey's case, you go for an entirely different set of reasons, and you hope that nobody figures any of them out before you get away.
From the VIP basket she can see north to brightly-lit buildings across the river. More anchored Beppelins bob around her, each with its own pair of matching knee-baskets. On the ground, people are dancing, just a little more raucous than they were a few hours ago. In the dark streets to the west, she can see home.
"I should get going," she says to her host, and smooths her skirt. It's wide and knee-length and it puffs out, buoyed by half a dozen layered petticoats; rough silk, fashionably frayed around the edges. The outfit won't stand up to close scrutiny (most of the petticoats are polyester, the bones of her black-and-grey corset are uncomfortable plastic), but then, under close scrutiny the sniffer bees will mark her as an impostor anyway. "Thanks for having me, though," she adds. He's unconscious so he probably can't hear, but it seems only polite.
On the ground, there's none of the spacious luxury of the Beppelin and its massed pillows; there are people, pressing close, and they jump and yell and twist around and drink. Carey slips through, meeting a few eyes, exchanging a few nods. It would be an unusually bad time to get caught, but she feels safe and warm and pleased. Perhaps that's what orange-stripes are for.
On the way in, she'd come through the gates with half a dozen nervous teenagers. It must have been their first visit; they'd been grateful for her apparent expertise, and she'd passed security unquestioned, surrounded by their wide blinking eyes. Leaving is going to be a little harder. She picks one of the small back exits, where she can get past the guards without arousing too much suspicion or hurting anyone too badly.
A dozen steps from the wall, heading straight into darkness, smiling in response to the curious glance of an arriving trio. Once she's around the corner, she stops behind an abandoned public hive to strip off the silk skirt and the corset: her almost-convincing rich-person clothes are a liability out here. The polyester petticoats and the baggy undershirt will do.
She can hear Southtown behind her, louder and higher-pitched—maybe the sound of discovery, or maybe just the first signs of dawn sending the crowd into a new frenzy. Another street, past factories and warehouses. Tall jagged fences. A glossy high-security beecycle rack for the north-siders, blinking malfunction. A few narrow houses are still standing, but nobody will look out at her: the overcrowded inhabitants keep to themselves, heavy curtains never drawn open, wax stopping their ears. With slumland on one side and Southtown on the other, nobody wants to be friendly with the neighbours.
Another street's length and she can see the bounds of home. Safe, then. Even security drones turn aside, the UV guidelines on the footpath leading them away. She stops to breathe and close her eyes for a moment, listening to the silence: here, and only here, the constant buzz of the city is quiet. No busy apiaries line the footpaths or stand in the squares. The few green spaces are filled with flowerless weeds; the tragedy of the commons does swiftly for any nectar sources. The people in these streets use coal and wires and oil, and it fills the air, leaves a greasy patina on every surface, infuses the fog with smoke and renders it unnavigable. Home.
It wasn't always like this, Mattari once told her. A few hundred years ago, the streets were wide; the houses were elegant. She knows where to look to see the shells of the old buildings, hidden behind ramshackle wood-and-iron extensions that encroach on what used to be public space. Once upon a time, Lavender Hill really did glow purple with flowers in the late afternoon light; the commons really were held in common; private gardens stretched across gentle slopes. She can't really imagine it.
She speeds up as she heads for Mattari & Sons, slips in through the side-door. Out front, Mattari is selling blackmarket "honey" through a sea of euphemisms. The back room is filled with sugarwater and paint and clear-bottled chemicals, but it's not really swindling; at Mattari's prices, nobody thinks they're getting the genuine article.
Carey heads into the closet—the back room's back room, home to the more dubious practices that hide behind a veneer of petty swindling and fake honey. There's a half-empty bottle of real mead on a low shelf; she fills a cracked beaker. For tonight's haul, she thinks, they're going to need to build a back room for the back room's back room.
She hears the outer door open and shut as the customer leaves; and the rattle as Mattari draws down the blinds. She flips through the top layers of petticoats to find a pocket, then pulls out the jar. "Catch," she says as he comes through the door; and he does.
"Are they real?" he asks, shaking the jar gently.
"Dunno," she says, and sits on the edge of the table. "They look like the pictures."
The microscope's out already; he picks up a slide and unscrews the jar carefully, tweezering out a single creature.
"Yeah," he says after a few minutes. "They're varroa mites all right." His voice is steady.
"Remind me again," Carey says, and laughs and leans back, "how we're only going to use this power for good?"