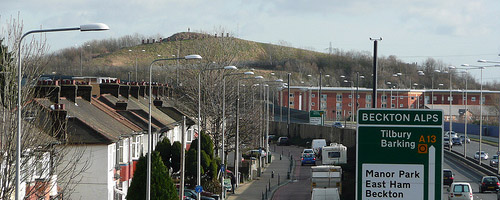 Picture by otrops: Beckton Alps
It's never easy to dispose of toxic waste, even if you're attentive and diligent and never let it build up for more than a week. If you've ignored your increasing hills of the stuff for 150 years, hiding them behind factories and smoke, there's not much you can do other than (a) put them up for rent as a film location, and (b) hope they don't give anyone superpowers.
Roger Moore hangs from the underside of a helicopter as it zeroes in on a small Pacific island. He can't help wishing that Beckton Gas Works had been slightly more diligent, or that he'd quit after Moonraker, or at the very least that they'd used a stuntman to film the scene in For Your Eyes Only that left him with superstrength, x-ray vision, ultrasonic hearing, and severe lactose intolerance.
Still, there's nothing to be done about it now. He nods at John Wayne, counts three, and then the two of them swing and let go, falling straight into the heart of the volcano far below.
Splash. Hiss. Their clothes dissolve.
Roger Moore wipes the lava from his eyes with one invulnerable hand. "Where is it?" he says.
John Wayne is already diving under the surface. "Straight down," he says, coming back up for breath and flicking open his tertiary eyelids. "Pretty deep."
Roger Moore nods. "All right," he says. "Are you ready?"
"I'm always ready," John Wayne replies, and the two of them dive.
It's difficult to tell, from above, what's going on beneath the lava. Still, the volcano doesn't explode: that's definitely a good sign.
Peter Cushing takes one hand from the helicopter controls, and uses his cane to push the rope ladder out the door as he flies lower. "A waste of a good tailor's work if you ask me," he says, as Roger Moore and John Wayne climb in, "but nicely done all the same. There ought to be spare clothes in the red box behind you."
Usually they find a nearby restaurant to celebrate, after they've saved the world, but the "spare clothes" turn out to consist of a clown suit and a large Edwardian night-dress, so they go for a picnic on a nearby mountain peak instead. The scones are cold, but Peter Cushing reheats them with his microwave hands.
The mountains remind Roger Moore of Beckton Alps, and that confused brightly-coloured week after his superpowers came. "I think," he says, "that we should do something about Beckton."
John Wayne rummages through the basket. "Has anyone seen the clotted cream?"
Roger Moore ignores him; he can't eat cream anyway. "Stanley Kubrick is going to be filming there in a few months," he says.
Peter Cushing grimaces. John Wayne grins. "Stan's okay," he says.
"I'm sure he is," Roger Moore says. "I just don't want him to turn into an invulnerable superhero. I think it would be a bad thing for him, and a bad thing for cinema. Also, the world."
John Wayne's found the clotted cream and he doesn't respond immediately, but Roger Moore won't let up. In the end, they take a vote and it's 2-1; so that night they fly the helicopter to Beckton, scoop up most of the toxic hills, and bury them in Norfolk.
(John Wayne is worried that Doctor McFrenzy — previously Angela the continuity girl — will drain his superpowers again and he'll need a top-up, so he insists on leaving the last hill in place. Roger Moore hides it under a dry ski slope, which is almost as foolproof a plan as it seems.)