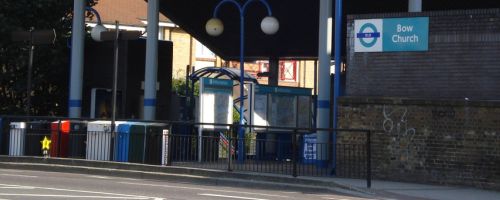 Picture by Kake Pugh: Bow Church DLR station
Jessica is the Patron of Arbitrary Standards, and unlike the Patrons of pretty much everything else, she's still going strong. At the moment she's standing on the platform at Bow Church, holding a pale blue phone that goes very nicely indeed with her eyes and her Christian Louboutin python wedge pumps. The shoes aren't comfortable, but they're quite expensive, and the Patron of Arbitrary Standards does have to look at least moderately exquisite at all times.
A couple of metres down the platform, a man and a woman are leaning against each other. They look happy. They've been flat-hunting, and they've found somewhere (she knows, she's been following them), and apparently it's going to be "perfect". There's even a balcony.
It's a good day, Jessica decides, to phone Taul.
"Hello?"
"Taul! It's Jessica."
"I told you to stop calling me."
She smiles. "I know. I'm at Bow Church. Godforsaken fucking place, not a taxi in sight, it's not even on the Underground. I've just about had enough of this DLR shite."
"Jessica, I'm going to hang up now."
"You always say that, but you never do. The buildings here, Taul! Have you been to Bow? They've got trees studded around everywhere but it doesn't make any difference. It's like earrings on a cardboard hog." She has to shout as she finishes the sentence; the train's drawing in.
"I'm going to hang up now. You're overplaying it, anyway."
"You always say that, too." She stands in place on the platform as the man and the woman leave, but she watches them through the window as the train pulls away. They definitely heard her; they're laughing about it, but all she wants is for a tiny bit of hesitation to stick. "You never understood me, did you? It's not about plausibility, it's about the niggling doubts. The worries you just can't dismiss even though you know they're absurd. Like the ones you have about Indira. She's really nice, Taul, there's no reason to think you've made a mistake."
"I don't think I've—"
"I'll call you back," Jessica says, and hangs up; the next batch of passengers is beginning to accumulate. A group of ten-year-olds; a middle-aged woman with a bag of shopping. Three girls in their mid-teens, which is a very easy target, but she's feeling vindictive.
"Me again," she says into the phone once she's moved down the platform.
He's silent. Doesn't hang up, though. He never does.
The girls are laughing. "Actually I don't care about looks," one of them says, "as long as he's got good teeth. And as long as his breath doesn't smell."
"How about fillings?"
"Fillings are okay. Not too many, you know? I've only had two."
"Yeah, I've had… I dunno. I think two."
Fish in a barrel, candy from a baby, peace of mind from a fifteen-year-old girl. "The thing is," Jessica says, not loud but very very clear, "she needs to do something about her breasts. If your nipples are more than twenty-two centimetres from your shoulderblade then, you know, you have a responsibility to sort it out. Surgery's not expensive any more, there's no excuse for being a lazy pig."
Taul tries to stifle his laugh, but she hears it anyway. "That's ridiculous even by your standards," he says. "What was wrong with the pencil?"
Jessica grins. "God, that's an old one though. They keep that up on their own, nowadays, I don't have to do a thing." Generations of women standing half-naked in front of bedroom mirrors, each one placing a pencil under a breast, wondering if it will stay in place, waiting for gravity to make its judgement. "How does Indira stand up to that one, actually?"
"She hasn't tried," he says.
"Bet you she has." She moves down the platform, spreading wisdom. Your annual salary should be at least a thousand pounds for each year of your age. Never sleep on your side, it gives you wrinkles. The middle-aged woman with her shopping has long hair in a bun; Jessica pretends Taul is her hairdresser, and makes an appointment. "I'm twenty-five now," she says. "I can't get away with hair below my shoulderblades any more."
"You're not twenty-five. You're ten thousand three hundred and twelve," Taul says.
"Sweetheart! You remembered!"
A few steps further along the platform and there's a man reading; engrossed, even, but Jessica's had a lot of practice and she judges her pitch perfectly to break through his reverie.
"Why don't you just come back?" Taul says.
"Taul," she says. "Is that a proposition?"
"Not that sort of back," he says, "you know what I mean. Back home with the rest of us. You don't need to do this any more."
"That's really sweet of you," she says, speaking over his denial, "but I don't think so. A man," and she sits down one seat away from the novel-reader, judging him quickly: she wants to present a target that's beyond his grasp, but not so far beyond that he can't imagine it. "A man should have a six-inch penis and make fifty thousand pounds a year. I'm not as demanding as most women, Taul, I'm willing to consider trade-offs. Forty thousand a year and a seven-incher, fine. A five-incher with sixty thousand a year? That would also be acceptable. But you, darling, you fall short in both respects, so I don't think I can accept your offer." She hangs up, and smiles brightly.
The platform empties out; more passengers arrive. She's getting into the swing of it now.
"If your first name is no longer available as a username on any given web service," she tells Taul as she stands by a woman with an iphone, "you'll just embarrass yourself by signing up. You'd be much better off trying to catch up with the zeitgeist and hoping you aren't so slow next time."
"Stop calling," Taul says. "I don't want to hear this."
"No."
Silence for a moment. "Indira and I are getting married," he says.
"Sure you are," Jessica says. "You're a good liar, Taul."
He doesn't deny it.
"Indira's never going to get married," Jessica says. "Not to anyone worth marrying, anyway. Left it too late. Too fat as well."
"She's not—"
"She is. If you want to find a decent husband in London then either your age or your BMI had fucking better be under 27." She glances for a moment at the girl two seats down, who's pretending to read a text message on her phone. Dead on 27 for both of them, she'd be willing to bet: she's a very good judge.
"Well, fortunately Indira's not in London," Taul says. "None of us are in London except you. Look, I'm hanging up now, and then I'm going to turn my phone off."
"No you aren't," she says, and hangs up herself—not quite sure, this time, that he wouldn't have done it, given another ten seconds.
She tries to comfort herself by shoving the 27-year-old in front of the next train, but that surplus BMI helps her keep her footing. In the end Jessica has to throw off her python wedge pumps to run from the transport police, and she can get another pair of course but it's the principle of the thing. She phones Taul from a taxi; it goes through to voicemail.
"You know she's just a rebound, right?" Jessica says. "It takes half the length of the relationship to really get over someone. We were together for four and a half thousand years, buster, so you've got a long time to go yet."