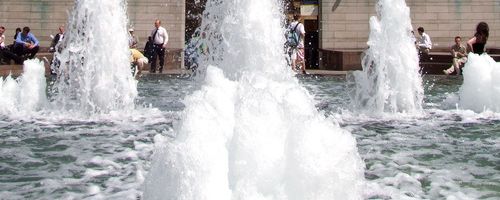 Picture by Andwar: Fountain & The Towers
The fountain at Canary Wharf contains two kilometres of piping, 117 nozzles in the central feature alone, and a pump at each corner rated for 792 m/hour. The filtration system has automatic backwashing and chemical control. The headers are stainless steel, and match cut-outs in the wide marble base.
The buildings at Canary Wharf funnel wind right through the plaza, but that's okay: the fountain has an anemometer and central computer to monitor wind speed, and the height of the water jets is automatically adjusted so that passers-by stay dry.
Matthew isn't great with anemometers, but he's pretty good with computers, and better still at pettily vindictive resentment that never goes away. Once he's gained override control of the water jets, he works on access to the extensive CCTV network, but facial recognition software is still too hit-and-miss: even after a month of incremental improvements, he douses a thousand innocents for each time he catches Lloyd. There's the RFID chip he implanted in Lloyd's left thigh, that one drunken Thursday, but there's no way of reading it from a distance. And GPS is no good: even if he could track Lloyd's phone without getting caught, the tall buildings mess up the precision of the signal.
In the end he takes the easy way out and uses the Oyster system. When Lloyd scans out at Canary Wharf station, Matthew's phone beeps at him and connects automatically to the CCTV; he can watch Lloyd's progress himself and twist up the power on the jets at just the right moment. Low-tech, but it works.
At least, it works for a while. Three months in, his control of some of the jets becomes unreliable. The problem is surely mechanical, but he sends out a robot with a webcam and can't find anything wrong; he's going to have to check it out himself. Seven in the morning, he thinks, with a hard hat and a brightly-coloured safety vest and council-branded waders. He watches the area for twelve hours in advance, through a high window, just to be on the safe side: unexplained mechanical faults are always suspicious. He sees nothing.
That's because Lloyd, it turns out, has been hiding in the fountain all night, dressed in a wetsuit, breathing through a pipe. "Not the old-fashioned sort," he clarifies. "Ran some tubing through the fountain. Turns out all that 'making stuff' shit we used to do can come in handy sometimes." Then he pushes Matthew's head back under water.
Lloyd'll be counting to ten, Matthew thinks, but it reaches twenty and he gets tired of waiting; fortunately his phone is waterproof, so he opens the fountain control app and directs the reliable nozzles full-speed towards them, twisting free while Lloyd sputters.
"I can't believe you shaved off your beard," he says as he regains his feet.
Lloyd sighs. "You need to get over this," he says. "I didn't burn your house down. I didn't kidnap your only daughter. I just left a job."
"I gave you everything!" Matthew says. "Business cards. We had those white Ikea bookshelves where all the shelves are squares, Lloyd, I bought those for you. A coffee table that lit up when you put stuff on it. You could use the Wii controllers to turn the lights on and off!"
"You never actually paid me, though," Lloyd says.
"It was a start-up!"
A flurry of very neat people in suits goes by. "Hey Lloyd," one of them says.
"Hi Kim," Lloyd says. "I might be five minutes late to the seven-thirty, hope that's not a problem?"
"Nah, no worries. See you there."
Matthew looks at him in disgust. "And after all that, this is what you've come to," he says. "Seven-thirty meetings with Australians in suits?"
Lloyd steps up onto the bench that surrounds the fountain and reaches back to unzip his wetsuit. "Yeah," he says, as a grey jacket comes into view. "And you know what? It pays really well."
"It pays well! And that's enough, is it? That's enough to keep you happy? No fulfillment, no creativity, it just pays well?"
Lloyd jumps down onto the plaza, and shrugs. "Mostly," he says. "Plus they have actual chairs. I was getting sick of bean-bags."