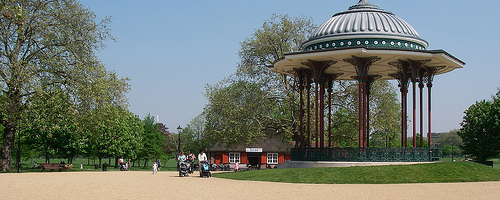 Picture by rev0lvin: Clapham Bandstand & The Cafe
Adem walks across Clapham Common every morning, and in the evening too when there's good gusty weather.
The thing about walking across Clapham Common is this: once you've done it a few times, there aren't many surprises left. There's some grass; there's some jutting-up trees around the edges; there's some water in the middle; and there's a bandstand. And that, plus a statue or two and the ever-shifting kaleidoscope of pushchairs and perambulators, is pretty much that.
When Adem first moved to Clapham, the common was new and exciting; then, after a few months, it was old and dull. Now, eight years in, it's fascinating again, so deeply familiar that any minute variation stands out in a moment. The stump that lies directly between his flat and the tube station, the asterisks where strangely-angled paths meet: these would barely register in a more crowded park, but Clapham Common gives them the space they need to become landmarks.
The only part of Clapham Common that Adem doesn't like is the bandstand.
Perhaps it's partly that he hasn't had so long to get to know it: it was refurbished in 2006, so it doesn't have the same weight of familiarising years. But mostly, he thinks, it's the way it draws visitors straight towards its bright colours and curved roof and central position, past every tiny detail that's grown dear to him.
"Isn't this the one they spent four million pounds refurbishing, or something?" Tevvi says.
"It was a million."
She looks at it. "It's not very good, is it?"
"It's a bandstand, what were you expecting?"
"For a million pounds? Lasers," she says. "Or at least, I dunno, some plants."
"There's plenty of plants," Adem says, "over this way."
Tevvi ignores him, and mounts the steps into the bandstand; she knocks a loose fist against one of its poles.
He wants to explain that the bandstand isn't the point. He wants to talk about the way Cock Pond's name sinewaves from funny to not-funny and back every few months. The way mist hangs close to the ground on winter mornings. The way there's an invisible line right down the middle of the common, dividing it in two, half Wandsworth and half Lambeth. Sometimes he walks along the line, moving from borough to borough with each step; sometimes he runs towards it and leaps over, chest out, shifting from home to not-home in mid-air.
"There's a great old log and a couple of stumps over to the east," Adem says. "And some really weird concrete. And a tree," he adds in a last-ditch effort, "dedicated to Jeremy Brett."
"Is it shaped like Sherlock Holmes?"
"Yes," Adem says, which is a lie.